EEA & Norway Grants in Romania – Energy efficiency funding calls by Innovation Norway expected in the upcoming months
EUR 17 million to be made available for energy efficiency projects on the Romanian market under the EEA & Norway grants. The funding will come through the upcoming calls of the Energy Programme in Romania. The calls are expected to open during the next few months.
The 2 focus areas supported:
– Energy Efficiency
– Enhanced research and development capacity on renewable energy, energy efficiency and energy security
Based on the public information published by Innovation Norway, we will have multiple funding streams for each focus area:
– Small projects seeking grants up to 200,000 eur
– Large projects seeking grants up to 2,000,000 eur
These calls will follow on the recently closed funding scheme supporting energy audits across all sectors. An Energy Audit will be required when applying for funds for energy efficiency measures made available under some of these future calls.
Possible project types in these future calls could include: energy efficiency in buildings, modern technologies and ICT, improved energy and resource efficiency of products, public transport, industrial transport related to goods, waste etc.
See below a snapshot with the programmes relevant for the private sector and indicative timeline (still to be updated):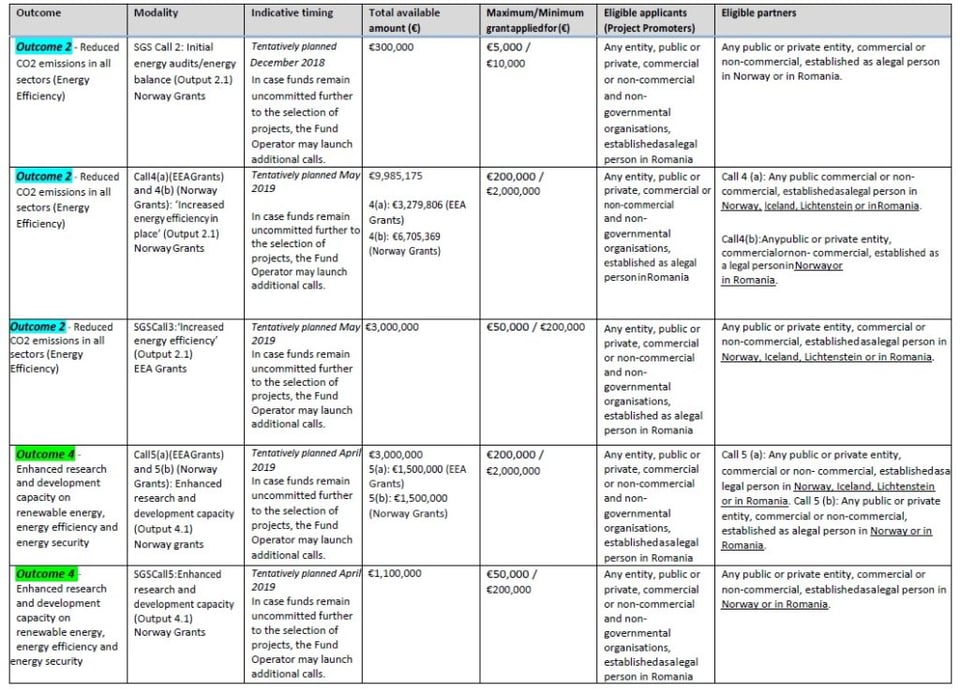 Source: "Innovation Norway – Energy Programme in Romania | indicative Fact Sheet and Timeline for launching the calls | v.15.11.2018"
More details about the Energy Programme in Romania
The Energy Programme in Romania, contributing to the general objectives of EEA and Norway Grants 2014‐2021, seeks to stimulate and develop long‐term cooperation between Iceland, Liechtenstein, Norway and Romania while encouraging bilateral partnerships. The overall funding of the programme is over EUR 62 mil, Fund operator Innovation Norway.
For more information on the Energy Programme in Romania, please read here. Additionally, for ongoing updates about the EEA & Norway grants, please get in touch with us, or follow us on Facebook, LinkedIn, Twitter.